1.) Content Rules
How to Create Killer Blogs, Podcasts, Videos, Ebooks, Webinars (and More) That Engage Customers and Ignite Your Business (New Rules Social Media Series)
Author Ann Handley & C.C. Chapman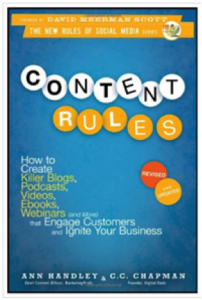 Summary:
Social media platforms like YouTube, Twitter, Google+, Facebook and blogs have enabled everyone, different organizations and their targeted markets included, a chance to be heard. With billions striving for attention in the online world, how do you make your "voice" heard? How do you generate videos and blog posts that can turn mere browsers into fans who will be passionate about what you have to offer, and will catapult your business to new heights? Content Rules gets you revved up for online success!  Learn the art and science behind content that people love. Read about case studies of companies who were able to create a buzz online with the ideas that enabled them to create credibility and a loyal customer base.
Find your true "voice," learn how you can leverage social media for your business, understand why you do what you do, and write in a way that sends you message across with clarity.
Review:
This is a book that every business owner and marketing executive should read.  The authors (Handley and Chapman) were able to present useful information in a format that is easily understood.
Content Rules is recommended for those who are just testing the waters, so to speak, in the digital world. In addition to that, for those who are looking to raise the bar a little higher… as far as content is concerned.
This book is a cross between social media and online marketing. It will help you understand the basic steps you need to take so that you can find the "voice" that will make you and your brand unique in this crowded marketplace.
2.) Social BOOM!
How to Master Business Social Media to Brand Yourself, Sell Yourself, Sell Your Product, Dominate Your Industry Market, Save Your Butt, … and Grind Your Competition into the Dirt.
Jeffrey Gitomer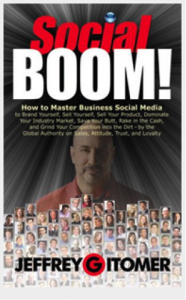 Summary: 
Social BOOM! showcases many facets of social media, incorporating the business parameters (blog, personal website and e-zine) that will enable you to unleash the power of the law of attraction. As you create online communities, you build connections that lead to real business engagements. Make the leap from social media to business social media by adding value to your friendly followers.
Learn about the business social media tactics that author Jeffrey Gitomer and other online gurus are employing right now as you examine each angle of this "foundation-building, platform-building" book. These are not ideas that came by chance. They have been tested and can be put into action today.
Review:
Social Boom! is a good book, both in terms of aesthetics and in providing valuable information. It's like taking a tour on various social media platforms like Facebook, Twitter, LinkedIn and Blogging and being reassured that they are not as frighteningly difficult as they seem.
Aside from Gitomer, guest authors like Noah Rickun, Mike O'Neil, Mark Schaefer and Sally Hogshead provided a well-rounded approach in explaining what social media really is.
I look at this book as a business manual.  As Jeffrey makes you feel that you're on a one-on-one coaching session on how you can create a strong social media presence. Having said that, it's definitely geared more towards beginners in the space and experienced online marketers might not find it worth their time.
3.) Likeable Social Media
How to Delight Your Customers, Create an Irresistible Brand, and Be Generally Amazing on Facebook (And Other Social Networks)
Dave Kerpen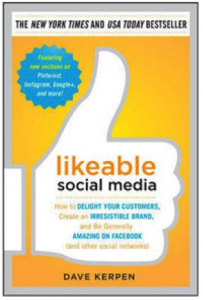 Summary:
Likeable Social Media teaches businesses how the online world is not so different from the "real" one. Where being LIKEABLE is the key that will unlock the door to new opportunities. Relationships matters. And what people say about you counts, especially online. No advertisement can beat a "friend's" recommendation.  With Facebook, Twitter and other social media platforms – feedback, whether good or bad, has never travelled faster and lasted longer than before.
This book teaches you how you can leverage the very powerful word-of-mouth marketing to propel your business to success.  Hear what your customers and prospects say.  Engage them and make them spread positive feedback about your business.
Review:
The real world case studies and examples are fantastic.
We see, hear and read about self-proclaimed Social Media Experts every day. David Kerpen showcases a unique and credible set of knowledge. Likeable Social Media was written by someone who clearly walks the talk.
At the end of each chapter, Kerpen challenges you – through exercises, to put into action the concept he discussed so that you'll understand how you can apply it to your business.
I suggest this to anyone who is curious as to how they can leverage social media for their business.
4.) The New Rules of Marketing & PR
How to Use Social Media, Online Video, Mobile Applications, Blogs, News Releases, and Viral Marketing to Reach Buyers Directly
David Meerman Scotts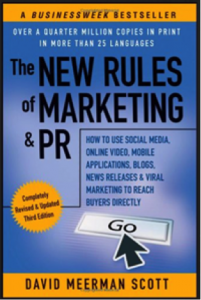 Summary:
The way businesses communicate has evolved through the years. Creative ad copy no longer gets the job done. This book has opened the eyes of thousands of marketers to the reality that the rules have really changed in the new digital age. Unique, a first of its kind in offering a doable action plan on how marketers can maximize the Internet's potential to reach its target market directly, increase online visibility, and pump up sales.
Learn how you can send the right message across to the right audience at the most opportune time – with little to no marketing budget.
This updated edition includes an introduction on the recent developments in marketing and PR, mobile marketing, real-time marketing and PR, updated materials on how you can measure the effectiveness and success of your campaigns, an array of new tools and new case studies.
Review:
This book opens your mind to new ways of observing and building marketing and PR. At certain points in our life, it's easy to conform and become extinct. After all, if it worked once it will always work, right? WRONG
Social media is dynamic. It's fast-evolving. This book has gives a glimpse of what to expect in the future as far as marketing and PR is concerned. As well as what needs to be done to stay relevant in today's marketplace.
For those looking for thoughts and ideas that will enable you to use the various platforms online more effectivel, this book is for you.
5.) The Zen of Social Media Marketing
An Easier Way to Build Credibility, Generate Buzz, and Increase Revenue: 2012 Edition
Shama Hyder Kabani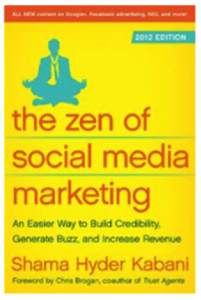 Summary:
The word "zen" is associated with being easy, masterful and calming. But when it follows the words "social media marketing," it feels like an oxymoron.  Social media marketing is a lot of fun, but it's rarely easy. Businesses can no longer avoid social media – so you might just as well join the conversation and connecting with your customers online.
The Zen of Social Media Marketing will open your eyes to the benefits of social media marketing without the hassle.
Chris Brogan, New York Time's best-selling author, wrote the foreword for the book. He stated how Kabani was able to give tested procedures from her successes through her online business interactions, as well as tips and tricks that will enable you to be more productive with your time.
Review:
Connecting with customers in a meaningful way and getting them to engage is a must to block out competitors and capture your customers' attention.
The Zen of Social Media Marketing takes us through the different social media platforms with a variety of tips, and step-by-step guides.
Whether you are a solo entrepreneur who's ready to grow his business or a marketing executive working for a big corporation, this is one of the top social media books.