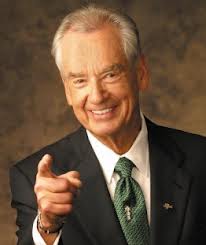 "It's not what you've got, it's what you use that makes a difference."
– Zig Ziglar (Nov. 6, 1926 – Nov. 28, 2012)
Zig Ziglar, often introduced as "The Human Exclamation Point," passed away this week. Yes, the total embodiment of the CAN-DO attitude has left us, but not without leaving important gems of thought that life has so much to offer, and that we have the power to change our own lives.
"Some of us learn from other people's mistakes and the rest of us have to be other people."
Born on November 6, 1926, Hilary Hinton Ziglar was the 10th of 12 children. His father died when he was 5, so he sold vegetables and newspapers on the street to help put food on the table.
Zig attended the University of South Carolina after serving the US Navy in World War II. Eager to continue his life of sales, he decided to leave the school to become a door-to-door kitchenware salesman.
He had his share of struggles at work, but his life took a turn when a company executive told him that he could be the company's best salesman if he only believed in himself and set his goals.
The power of those words changed his life.
Soon, he began winning sales awards and eventually trained others in the art of sales. In 1968, he left the company, moved to Dallas and began working as the Vice President of a car accessories company. When the company folded, he established his own.
"When obstacles arise, you change your direction to reach your goal; you do not change your decision to get there."
"If you go out looking for friends, you're going to find they are very scarce. If you go out to be a friend, you'll find them everywhere."
"You are what you are and you are where you are because of what has gone into your mind. You change what you are and you change where you are by changing what goes into your mind."
Best of Zig Ziglar | Top 5 Video Clips.
Attitude Makes All the Difference
This video takes us to the realization that how we see things is a reflection of who we are, and not what others really are. He narrates the story of a woman who hates her job so much, but eventually changed her attitude and sees the things that she despised so much in a totally new light.
Zig said, "Some who comes to you with a problem doesn't necessarily want a solution." So what are they really after?
Here he explored the attitude that drives people to do what they do, and reminds us that, " The healthiest human emotion is gratitude."
Keys to Igniting Motivation and Success
When Zig said, "Motivation is temporary, but so are bathing and eating," he reminded us that in order for us to really live a fulfilled and happy life, we should always get up in the morning with a brand new hope. And that if we are able to do that each and every day, it'll grow on us and will make us feel more revitalized in the process.
Setting Goals
In this video, Zig explains how valuable setting goals are in our lives. It's a showcase that we can achieve something that looks absurd at first glance, if we'll only put our minds to it.
Selling
Here, we watch Zig Ziglar talked about his passion, sales.
He tells us how uncovering a need, and bringing to your customers the solution to that specific need, can get you started on your sales career. He also illustrated how our life is really all about sales. And that this has been going on for thousands of years now.
Secrets for Closing the Sale
Zig reminded us to always deliver on what we promise. Here in the "Shame Close" (or also known as the "Guilt Close"), he illustrates how salespeople can really sell by allowing their customers to see what they might be missing if they don't buy what you have to offer.
Best of Zig Ziglar | 3 Must Read Books:
See You at the Top
Structured more like a staircase, where you need to take each step before the next.
In this book, Zig Ziglar helped us understand how we see ourselves is as important as how others see us.
He also shared how the right attitude can take us from "mediocrity to meteority." This book is an embodiment of business philosophy where little theory is involved, as it shares the real-life techniques of real people and what made them successful.
Born to Win
"A book dedicated to all those who were born to win, and not for those who are made with a spirit of timidity."
The idea is both simple and deep. It's realizing that for you to be able to win, you have to make sure that you plan to win and prepare to win. It's telling us that it may not be easy. But everything's really within our reach if we set our mind to it.
Zig Ziglar's Secret of Closing the Sale
It's a book that illustrates the power of persuasion. It teaches us how we can win in the game of life by convincing others and compelling them to take action, based on what we want them to do.
It tells us a no isn't a no, unless we have conceded to defeat. A no is just merely an opportunity to open other people's eyes to the reality that we're seeing.
We pay tribute to a man who blazed trails in the field of sales & marketing and life. And who willingly shared what he had learned so that others may also know.
"You don't have to be great to start, but you have to start to be great."