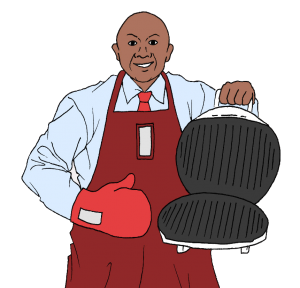 It was October 30, 1974. Undefeated world Heavyweight champion George Foreman was knocked out by Muhammad Ali in the eighth round of what some argue to be the greatest sporting event of the 20th century.
Fast-forward 20 years and picture the legendary Foreman wearing an apron with a big smile as he happily cooks his reduced fat burgers. What happened?
Before the early 90s, it was difficult to grill burgers indoors while allowing the excess fat to drip away. In most parts of the country grilling outdoors is a seasonal activity and requires the burgers to be flipped frequently. Grilling burgers indoors in a pan traps all of the extra fat inside the burger. That's a problem.
The George Foreman Lean Mean Fat-Reducing Grilling Machine, or more commonly known as the George Foreman Grill, is an electric-heated grill for indoor use.  And since it was first introduced in 1994, more than 100 million units have been sold worldwide.
The grill was invented by Michael Boehm and Robert Johnson. Known for his appetite for hamburgers, Foreman used his personal brand and agreed to sign up with manufacturer Salton, Inc. as the grill's endorser. Since its debut in 1994, over 100 million grills have been sold.
Foreman himself is proof that knockouts can happen anytime. Developing great products is difficult. Sometimes you need to roll with the punches and see what pure determination can do.