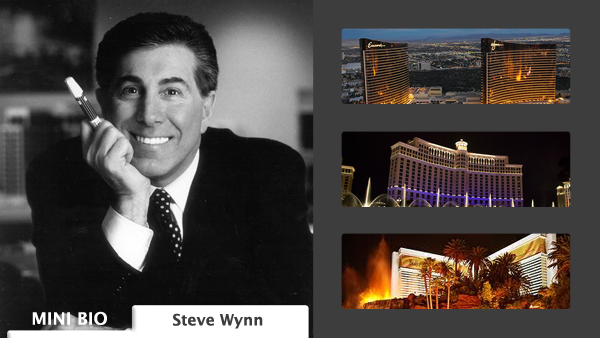 Steve Wynn is a business magnate and a casino oracle.  His rise to success took place on the Las Vegas Strip in the 90s.
Because of the tremendous financial success of the Las Vegas Strip, Wynn became part of the 500 richest people on the globe. He also became the chairman and CEO of Wynn Resorts Limited which manages his resorts and casinos.
Steve Wynn learned the ropes from his father whose business was in gambling with bingo parlors around the eastern United States. Naturally, Steve got involved in the family business.
Before getting into the business, he studied English literature and graduated from the University of Pennsylvania.
Despite his academic achievement, the family faced financial hardships when his father was forced to undergo an open heart surgery.
Eventually, Steve's father passed leaving Steve with $350,000 in gambling debts and the family business.
Wynn had two children with his first wife, Elaine. They were married in 1963 and divorced in 1986. Their daughters are named Gillian and Kevyn.  They married again in 1991 and had another divorce in 2010. Elaine still holds the position of the company board of director.
At present, Wynn lives at his private luxury in Las Vegas, while his ex-wife lives in the mansion that they built in Southern Highlands.
Wynn is now legally blind after several years of having retinitis pigmentosa. The disease is characterized by reduction in visual capability around the perimeter of the eyes until the eyes lost the capacity to detect light.
In response to his blindness, Wynn immerses himself with a vegan diet as recommended by Mike Anderson through the show Eating.
It is estimated that Steve Wynn has a net worth of $2.5 billion as of March 2012, making him the 491st richest man in the world.
Net Worth: $2.5 Billion