Social Media Showdown
Facebook VS Twitter VS Pinterest VS Google+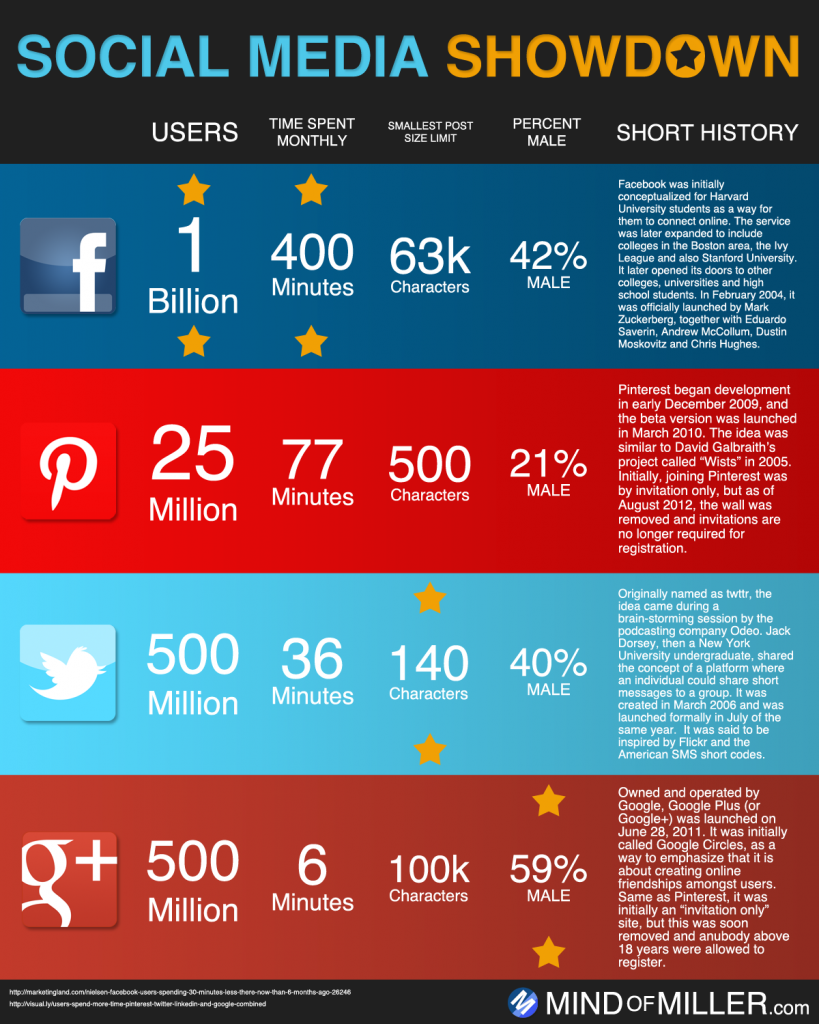 Short History
Facebook
Facebook was initially conceptualized for Harvard University students as a way for them to connect online. The service was later expanded to include colleges in the Boston area, the Ivy League and also Stanford University. It later opened its doors to other colleges, universities and high school students. In February 2004, it was officially launched by Mark Zuckerberg, together with Eduardo Saverin, Andrew McCollum, Dustin Moskovitz and Chris Hughes.
Twitter
Originally named as twttr, the idea came during a brain-storming session by the podcasting company Odeo. Jack Dorsey, then a New York University undergraduate, shared the concept of a platform where an individual could share short messages to a group. It was created in March 2006 and was launched formally in July of the same year.  It was said to be inspired by Flickr and the American SMS short codes.
Pinterest
Pinterest began development in early December 2009, and the beta version was launched in March 2010. The idea was similar to David Galbraith's project called "Wists" in 2005. Initially, joining Pinterest was by invitation only, but as of August 2012, the wall was removed and invitations are no longer required for registration.
Google+
Owned and operated by Google, Google Plus (or Google+) was launched on June 28, 2011. It was initially called Google Circles, as a way to emphasize that it is about creating online friendships amongst users. Same as Pinterest, it was initially an "invitation only" site, but this was soon removed and anybody 18 and older was allowed to register.
Additional Details