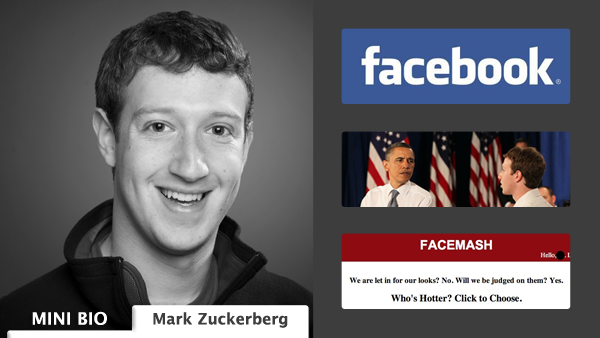 Mark Elliot Zuckerberg is a social media pioneer and currently, the CEO of Facebook.
He developed it as an online platform while attending Harvard University. Eventually causing Mark to move to Palo Alto, CA and run it as a business.
Zuckerberg's interest in software programming was developed during middle school and he was taught  the basics of programming by his father.
During his stay at Harvard, he was able to study psychology but his passion for computer programming was hardly over. He created the prototype of Facebook which he called Facemash.
It allowed students to rate female undergrads based on their hotness. It didn't take long for the complaints to start tumbling in and Facemash was shut down.
The "chaos" the Facemash brought forced Zuckerberg to apologize publicly. The incident inspired the idea of having a college website exclusively for students with their contact details and photos. Mark dropped out of school and focused on building a website with the same idea.
His idea materialized with the support and effort of his friends. Afterwards, the platform was shared to other campuses until it reached the entire country.
In 2007, Zuckerberg had a net worth of over $1 billion.
The social network has grown to over 1 billion users and counting.
Despite his enormous success, he faced many criticisms of his "ask forgiveness, not permission" attitude for site updates. They have been criticized for privacy issues, advertising problems, child safety, and controversial content.
Facebook was also negatively criticized by various groups for its censorship. As a result, some groups and individuals have filed lawsuits against Zuckerberg.
One particular lawsuit came from those who claimed to be the ones who helped Zuckerberg in creating Facebook. The suit lasted for years until Mark settled and surrendered an undisclosed amount of Facebook equity.
Zuckerberg has become one of the 100 most influential and wealthiest people in the World based on Time Magazine.
His story was turned into an incredible movie entitled The Social Network.
Currently, Mark Zuckerberg has personal wealth estimated to be at $9.4 billion.
Net Worth: $9.4 Billion