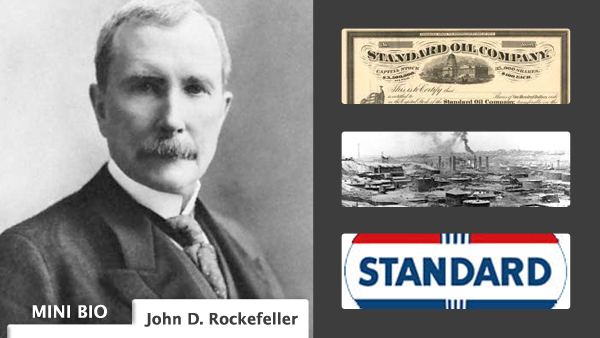 John Davison Rockefeller was born in Richford, New York on July 8, 1839.
He first worked as an assistant bookkeeper where he earned less than $4 per week. Yet, he remained focused on his job and worked hard until he was able to venture out into business.
At the age of 20, he got involved as a commission merchant of a company, which gained around $450,000 during its first year in business. Rockefeller was very careful when it came to investing. He ignored unnecessary risks and concentrated more on business opportunities.
He discovered great business potential in the oil industry during the 1860s and went on to found the Standard Oil Company.
Prior to the creation of the oil company, he was involved in the creation of Rockefeller and Andrews, partnering with Samuel Andrews, as well as the Standard Works company.
He created the company together his brother William Rockefeller, Stephen V. Harkness, Samuel Andrews and Henry M. Flagler. His oil firm expanded by buying out all of its competitors operating within his target area. Rockefeller made use of some monopolistic practices in terms of negotiating with shipping and railroads companies.
John D. Rockefeller was a big time businessman in the oil industry. He dominated the market owning more than 90% share as his empire continued to take over smaller oil companies. His highly effective strategy, however, resulted to an examination conducted by the Supreme Court, which later split his firm into smaller companies.
Every businessman is bound to experience a downfall. As for John Rockefeller, his relationship with the public went south.
He retired in 1895 and switched directions. He engaged with philanthropic activities, which lessened the attacks on his personal life and oil business.
A few years later, a book entitled "The History of Standard Oil," which was written by Ida M. Tarbell revealed Standard Oil's cruel business practices.
It was in 1911 that Rockefeller's corporation was declared to have violated the Sherman Act and received an order to dissolve.
In the latter years, Rockefeller donated over $530 million and helped built the University of Chicago and the Rockefeller Institute for Medical Research or Rockefeller University. He also created the Rockefeller Foundation.
John Rockefeller was married to Laura Rockefeller. He had five children.
Rockefeller's estate upon his death was worth around $30 million.  It's been said that he was the first American ever to be worth more than $1 billion during his lifetime.  The primary reason for the decrease in his wealth was philanthropy during the latter years of his life.
He was known as one of the most prominent businessmen in the U.S. He was also recognized as one of the people who helped in building the Nation we have today.
Rockefeller's amassed wealth during his lifetime would be worth around $340 billion if compared to its US dollar equivalent today.
Net Worth: $340 Billion
(adjusted for inflation)