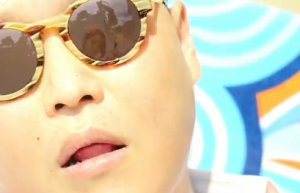 Who would have thought a few months back that a 34-year old, portly South Korean rapper could actually surpass a teen pop star heartthrob, with millions of loyal fans, in YouTube's viewership race?
This was thought to be impossible around six months ago when PSY's 'Gangnam Style' first hit YouTube. However, the recent numbers show that PSY has already outnumbered the rather popular Justin Bieber's 'Baby' — which toppled Lady Gaga's 'Bad Romance' in 2010.
'Gangnam Style' has already earned 'Gangnam Style Success' with over 830 million views since it was posted last July while the Bieb's 'Baby' that was released in February 2010 which stands at 803,732,000.
The same video by PSY has also earned the Guinness Book of World Records title for the most liked video posted on YouTube. At the time the recognition was given, the numbers stood at 5.3 million likes. As if these are not enough, PSY's meteoric rise to fame has also seen him dance alongside big shots such as UN's Ban Ki-moon, Hugh Jackman, Britney Spears, Madonna, and most recently, MC Hammer during the American Music Awards.
So, what does this viral video teach us?
There is no need to utilize a popular face to rake in big numbers, as there are other key points that can spell success for an advertising endeavor.
Be Funny
One formidable lesson PSY and his 'Gangnam Style' video relay is the fact that a funny and satirical video can be more relatable than its serious counterparts. This is what the video capitalized on to catapult PSY to worldwide fame. It displays a satire of a Seoul neighborhood renowned for its wealth (Gangnam). It also shows a fairly crazy horse-riding dance move along with a catchy croon. Gone are the days when videos have to be humorless in order to communicate their message. Fact is, people are humans, who find more comfort in funny things.
Be Short
The video, which is only around 4 minutes and 13 seconds, may be short but is jam-packed with messages. Remember that people have shorter attention spans these days. Brevity can serve better purpose than putting up an epic video. This is where talent in video editing comes in and there is no shortchanging that. This same concept conveys the need for simplicity.
Be Original
The need to keep things new is also necessary to have a successful marketing strategy. Take a look at PSY's video and notice how novel his looks, moves and overall concepts are.
Finally, squeeze out those creative juices the same way 'Gangnam Style' did.
Data shows that the most successful campaigns are the most creative.
They present something unique and unconventional; something that makes them stand out from their competition. The campaigns they make also have a clear understanding of the audience they wish to reach. Often, these materials resonate the voice of their viewers.