Is Foursquare Moving Away from Gamification?… Finally!
About 10 years before 2009, Dennis Crowley was bored while working at Jupiter Research. Suddenly, thoughts of a mobile social network emerged.
He said that during the dotcom crash, Dodgeball, which is the predecessor of Foursquare "started as a way to locate the hang out of their laid off friends." Dodgeball was bought by Google in 2005 who basically shelved it.
In 2009, Crowley joined forces with Naveen Selvadurai. Selvadurai is the co-founder of Foursquare. The duo then worked at bringing the abandoned service back to life.
Foursquare was launched in March 11, 2009.
Foursquare is an improvement on Dodgeball. It serves as a locator for the participants. The rules are pretty simple. The users announce their location with friends by checking in. They can either use a smartphone app or send a text message. When users check in at certain locations, they receive corresponding points. Gamification is great for user adoption but is incredibly dangers for a long-term strategy, as users eventually get tired of games and stop "playing." If you're trying to build a long-term social network, it's ok to include gaming elements but Foursquare was designed like a game from the ground up. Even the name "Foursquare" is a game. As to be expected, the traffic followed the predictions for short-tem growth…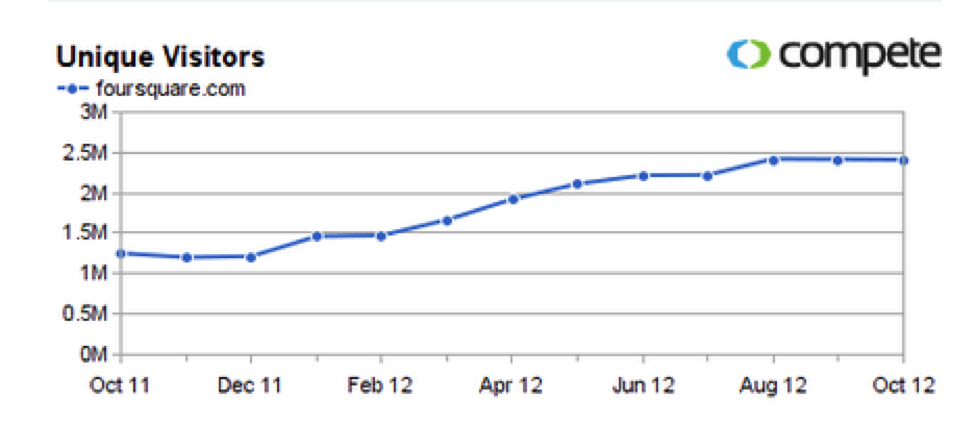 The graph is showing that the number of users is not increasing. in fact it has reached a plateau since Aug of 2012.
Dennis Crowley also "revealed that users were not checking in with Foursquare, so they are searching for solutions to improve engagement."
In line with this, there is a new highly enhanced Foursquare that accommodated user feedback for better service. The new Foursquare highlighted the "venue and activity recommendations".
The smarter Foursquare app has the following improvements to expand beyond gamificaiton:
1) There are now fewer tabs, when the old one had 5, now there are 3
2) The Explore tab recommends places, food, shops, clubs based on your dwelling place
3) The venues can be seen on Google Maps
4) Userful information are now accessible to users about "the venue, feedback from users and publications, available deals"
5) Call to action button is placed at the top of the screen. This makes it easy for users to access check-ins using the thumb
6) Mayorship and other gamification features that used to define Foursquare are relocated to the bottom of the screen
7) The profile has categories which are designed similar to Pinterest with boards. Categories "include friends, stats, photos, tips, badges and lists."
These improvements are met with the following:
New York's PRWEB as of October 22, 2012 depicts that Foursquare challenges Yelp.
Chris Thompson on October 31, 2012 wrote about Foursquare becoming a search engine. This time it is so much easier to accomplish by learning to leverage on the services offered by Foursquare.
Foursquare has accomplished a lot with the innovation they adapted. How the people and businesses ride the tide of this tiger novelty is something worth watching.