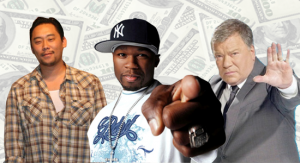 If your company is just starting out or you're having trouble finding traction, celebrity endorsement for stock compensation might be the perfect solution.
Yes, the rules have changed. As a startup, that can definitely work to your advantage especially when cash is tight. The good news is that most celebrities would love the opportunity to be paid in stock.
Influencers are starting to embrace the concept of building brands outside of their core acting or singing careers for the potential of long-term riches.
Let's take a quick look at a few examples:
50 Cent
Realizing his massive popularity in 2004, 50 Cent was tapped as Vitamin Water's endorser. I'm sure you heard the rumor that 50 Cent walked away with $400 million when he finally cashed out.
Though Glaceau CEO Darius Bikoff and president Mike Repole were initially apprehensive about getting 50 Cent as the company's spokesperson, Chris Lighty made sure the deal was finalized.
It has been said that 50 Cent was given shares of the company, with a stipulation for possible increase should the company's growth hit a certain number.
An agreement was signed between 50 Cent and Glaceau. Although it has been kept confidential, rumor has it that Chris Lighty was able to close a deal that eventually netted 50 Cent $100 million.
Total: $100 Million
William Shatner
The rumor regarding William Shatner's $600 million earnings from Priceline.com also indicates how celebrities are taking advantage of stock compensation agreements.
William Shatner became a "Priceline Negotiator" in several commercials for the travel company. During that time, Priceline was getting high stock market valuations, which gave Shatner the idea to get paid in stocks instead of cash.
It was a smart move… until the company's shares lost nearly half their value.
Rumors revealed that Shatner did not sell any of his stocks despite the company's downfall moment. He continued doing commercials until Priceline regained the majority of these loses.
Again, those are just rumors. After some careful digging I found an interview where Shatner himself denied the rumor. He sold his shares when they were worth pennies.
Priceline is currently trading at more than $600 per share, and Shatner's stock would have been worth around $600 million.
Total: $0 ($600 Million)
David Choe
Does the name ring a bell?
David Choe was an unknown graffiti artist requested by Mark Zuckerberg to cover the walls of his FB headquarters with some artwork. The Facebook CEO offered Choe $60,000 for the project.
It was quite an offer for someone who had yet to create a name in the world of graffiti art. But surprisingly, Choe did not accept the cash. He declined the offer and presented a different way of getting paid for the proposed work.
Choe opted to receive $60,000 worth of Facebook stock. It was one of the best deals any artist has ever made.
When the social network went public at an estimated market value of $100 billion, Choe's stocks were expected to valued at $500 million. If he held onto the stock, it would only be worth about 60% of that.
Total: $300 Million
Indeed, artists or celebrities know how to make money. But instead of just relying on talent fees, they're engaging in opportunities that allow their money to grow.
As a startup, still in the process of establishing a brand, paying celebrities in stock enables you to save drastically on marketing expenses and more importantly, overcome the "cold start" launch dilemma.
And, it is definitely a win-win situation for both parties.