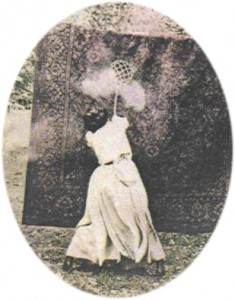 "Necessity is the mother of invention."
Creating a successful company doesn't actually start with the inception of a random idea. Reality is that most successful enterprises were built to address something that the world is missing.
Journalists claim Mark Zuckerberg created Facebook to meet more girls at Harvard. The service was missing, so Facebook was born.
Google's founders wanted a tool that would make searching and organizing information on the web easier. Don't believe me? Google it!
Build Something That Sucks.
Hundreds of years before the era of 20-something tech billionaires, there was a more fundamental problem… dirty carpet. Cleaning rugs meant hanging them over the wall and beating them with a carpet beater to remove as much dirt and dust as possible.
Imagine the time and effort involved in that process.
The desire to find an effective mechanical solution to floor cleaning resulted in the invention of Vacuum Sweeper. Ives McGaffey patented a sweeping machine on June 8, 1869. And that was the very first patent made for a rug cleaning device.
However, it wasn't a motorized sweeper. McGaffey called it a Whirlwind, a hand-pumped vacuum cleaner introduced in the U.S.
Since then, other inventors followed.
John Thurman introduced the horse-drawn vacuum system through a door-to-door service in St. Louis. His rate for the cleaning service was $4 per session in 1903. He built a gasoline-powered vacuum cleaner a few years prior. It was considered the first motorized vacuum cleaner according to historians.
The popularity of using vacuum cleaners encouraged several other American inventors to create their own variations.
TTI Floor Care North America is at the top of the US vacuum cleaners category with a 32% share, along with Dirt Devil and Hoover brands.  Bissel Inc. has a 21% share and Eureka is at 17%.
In 2011, the vacuum cleaner industry's posted $1.2 billion revenues, with estimated gross profit of 20.65%.
The industry continues to grow, and there seems to be no letting up as innovation to make the vacuum cleaner more economical, user-friendly and more innovative.
What other rug beating processes can you improve?
Build a product worth improving. Build something that sucks!